Top Five Global Village Pavilions that you Cannot Miss Out on
Global Village opened in Dubai earlier this week, on 1 November 2016, and was attended by hundreds of visitors on Day 1.
As the weekend approaches, thousands more are expected to throng the six-month long extravaganza.
Here we look at the five pavilions you must visit this weekend.
1. UAE pavilion
UAE's pavilion is designed to portray the country's heritage and the old Emirati architecture. Incense burners are displayed at the pavilion to welcome visitors in sheer hospitality. Meanwhile, locally made oil perfume shops are widespread.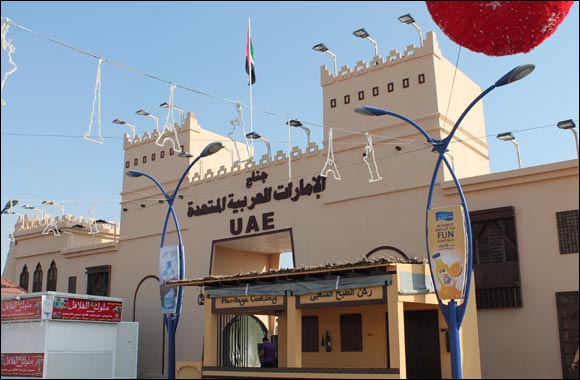 2. Yemen pavilion
The Yemini Pavilion at Global Village is designed with the look and feel of the country's old bazaars. Meters away, the smell of Yemen's famous spices fill the air. Exhibitors with the national costumes and daggers reflect the country's ancient tradition in spice trade and traditional Yemini dresses. Not to miss is the Yemini dagger, the symbol of manhood, the Yemini dagger is still designed in vintage silver and decorated with precious stones just like in the old days.

3. Africa pavilion
The pavilion represents more than 15 countries and they include: Kenya, Uganda, Tanzania, Senegal, Ghana, Ethiopia, Mauritania, Angola, Zimbabwe, Sudan, Rwanda, Madagascar, Namibia, South Africa and Nigeria. Most of these countries showcase their authentic products as well as their respective country's art, wealth and traditions. The pavilion's prevalent offering is hand carved artefacts. The intricate designs are made from the best types of wood in the world such as ebony, mahogany, rosewood as well as soapstone. Don't forget the masks!
4. India pavilion
With more than 300 stalls, the Indian pavilion exhibits and sells the most authentic Indian products varying from cotton, silk, chiffon fabrics to traditional leather made sandals, handbags, wallets and accessories. Indian carpet exhibitors are also present to express Indian forms and shapes of hand-woven natural silk and fleece, jewellery, clothes and home accessories.
5. Pakistan pavilion
The Pakistani pavilion at Global Village hosts a large number of exhibitors showcasing leather goods, cotton fabrics and various traditional items and home accessories.